Success in eCommerce used to result from three things – ad spend, competitive pricing, and maximum convenience for the customer. But the landscape has shifted dramatically, and if you plan to move forward in the months ahead, you need a growth strategy that's evolved with it.
The list of challenges facing eCommerce businesses today is extensive. The fallout of the pandemic has led to increased competition, and that combined with Apple's latest privacy update (allowing users to opt out of data tracking) has led to a steep rise in acquisition costs. Brexit has also caused significant disruption, and it's likely to be some time before the dust even starts to settle.A
And of course, there's the increased expectations of the consumer. The narrative has moved from price and convenience to one of experience, placing greater demands on every branch of business operation.
But behind these challenges sit many windows of opportunity, provided you have the right systems and process in place.
We've been speaking to some of our industry expert contacts to get their advice on growth strategy for the year ahead. Here's a look at their insights, and the key techniques we recommend all eCommerce businesses adopt.
Know What Works With Conversion Attribution
Actionable data is key to business growth – and when that data relates to conversion attribution, you have a clear view of what drives sales.
We've been tracking the impact of on-site reviews lately with our newest solution, FullPicture.io. There's a lot of stats out there on how influential customer reviews are, but we wanted a way to prove ROI for individual brands – so we built one, and got some pretty impressive results.
When we looked at Waterdrop, we found customers that interacted with review content prior to purchase had an AOV 10.3% higher than those that didn't. But it's not just the impact of reviews you can track with FullPicture.io. We've turned it into an all-in-one eCommerce analytics platform that gives you – wait for it – the full picture.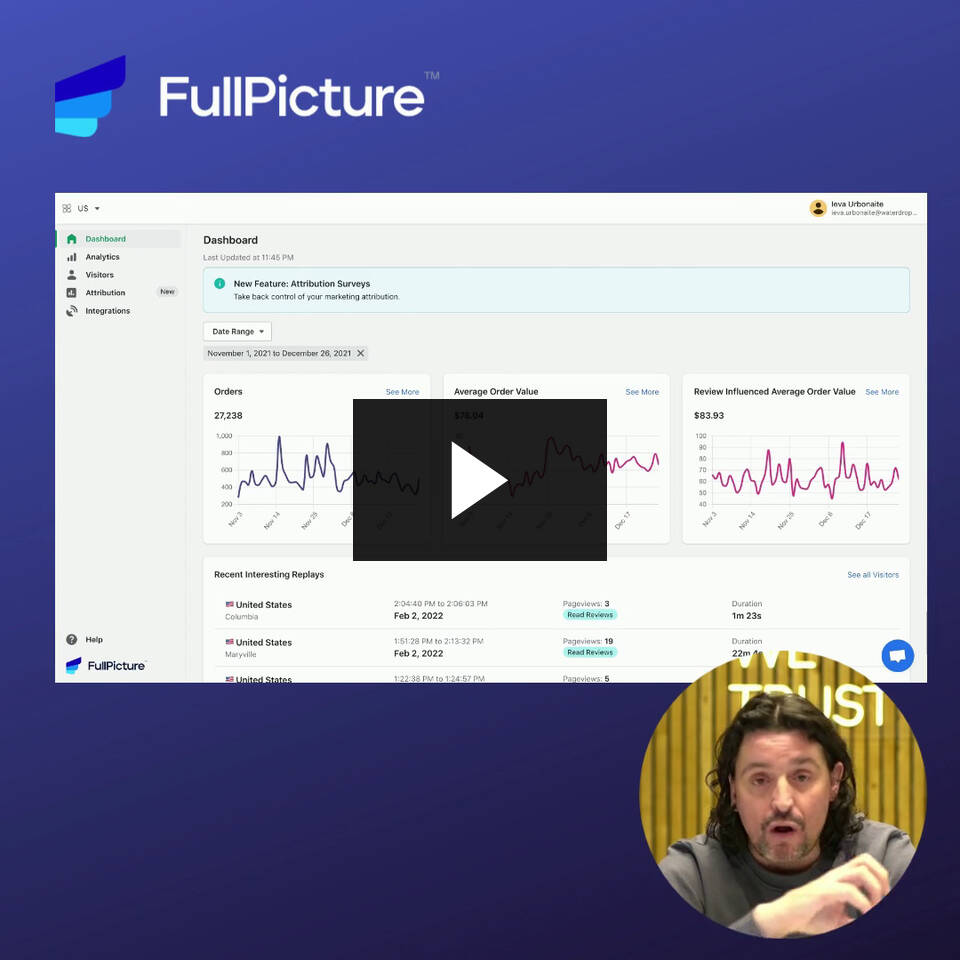 Build a Powerful Tech Stack That Meets Your Needs
The tools you use have a huge impact on your growth potential, as does the extent to which those tools are compatible with each other. For example, a helpdesk solution like Gorgias integrated with REVIEWS.io can bring valuable efficiencies to your customer support efforts.
Integrations with ESPs like Klaviyo help bring personalisation to your email marketing through review data, and platforms like LoyaltyLion enable reward programmes that encourage retention.
The beauty of building your own tech stack, instead of opting for an all-in-one suite solution, is that you get to pick the very best apps and platforms for each function. And because they're the best, they're all designed to integrate seamlessly with one another in what's known as a best-of-breed approach.
Optimise Supply Chain Management
Labour shortages, Brexit and an all round global shipping crisis have made the importance of efficient supply chain management abundantly clear. It's true that a lot of the disruption caused has been out of the control of the eCommerce businesses that have suffered, but that just makes being one step ahead all the more important.
We got insight from Ben Clarke at James and James Fulfilment on this one. He stresses the need to understand customer behaviour and gain full visibility across your entire supply chain. It's imperative that you know the lead times for all your best stock, and are aware of any potential delays.
It's also vital that you know your seasonality. We're not just talking summer/winter here, but any relevant dates and events that may prompt a peak in traffic (think Easter, Valentines Day etc.) Look back on historical data to forecast demand, and set warehouse, supply and logistics processes in motion. Ben also points out that this is another area where the right tech is critical.
Focus on Brand Building Through Social Proof
It may be one of the oldest techniques around, but word of mouth is still the most powerful tool for encouraging business growth. It drives quality traffic, increases conversion rates, and helps create a strong identity around your brand – something consumers seek more and more as they look to connect with things that help them express their own sense of self. 
Use Reviews to Drive Your Google Performance
Whilst social commerce may be gaining some traction, we firmly believe that Google will remain the go-to platform for shopping queries and a primary source of 'low hanging fruit' revenue, provided you optimise performance.
We'll admit ROAS isn't quite what it used to be, but one of the best ways to combat these rising acquisition costs is to use a Google Licensed review solution. This means that, once certain conditions are met, you'll be awarded a Google Seller Rating – visible in your paid ad campaigns – which in turn can lower your PPC. At the same time it'll boost your visibility, improve your quality score, and earn you trust with the consumer.
Acknowledge the Metaverse
This isn't so much about implementation as it is awareness at this point in time. Facebook launched the concept into the spotlight when it changed its name to Meta, but if you're still in the 'Meta what now?!' phase you might want to catch up – because this digital revolution is changing the face of consumer goods.
Today's young consumers are interacting in different worlds, and making purchases that reflect that. They're not always focused on physical, tangible goods, but additions to their online personas. Why buy a physical pair of trainers – that only your immediate contacts will see – when you can buy a digital pair for your entire online audience to admire?
It may sound like an issue for future you, but at the very least, take some time to understand this consumer group and their ecosystem – because the Metaverse is coming to eCommerce. 
Implement Your Growth Strategy for the Year Ahead
Despite its many challenges, there's never been a more exciting time to be part of the eCommerce space. It's busier than ever before – both in terms of custom and competition – and it's evolving at a profound rate.
Consumer expectation is forcing brands to raise their game, bringing better standards and greater creativity. And prominent tech solutions in the eCommerce space are pushing boundaries to deliver greater ROI for their own customers.
Written by Reviews.io (Author: Josh Sanders)
Link to Original Blog: https://blog.reviews.io/post/top-ecommerce-strategies-for-rapid-growth