Organizing your influencers, creators, ambassadors, affiliates, and more is tough. There are three types of companies that we often talk to:
Companies that have never done any form of influencer marketing, but want to and don't currently have a process.
Those that have run influencer programs, but all of their previous processes live in a spreadsheet
Companies that are currently using influencer marketing software to manage campaigns, prospecting, contacts, and outreach.
In this article, we'll focus on the last two. We will also highlight some key Dovetale features and pro tips to organize your work with influencers/ creators.
Uploading your Spreadsheet
First things first, take that pesky influencer spreadsheet and upload it to Dovetale. The upload function will clean up your spreadsheet, add any missing social media accounts, and enrich the contact information. Even if you don't end up using Dovetale, you can re-download it and at least you'll leave with a more organized spreadsheet with updated metrics.
Take this: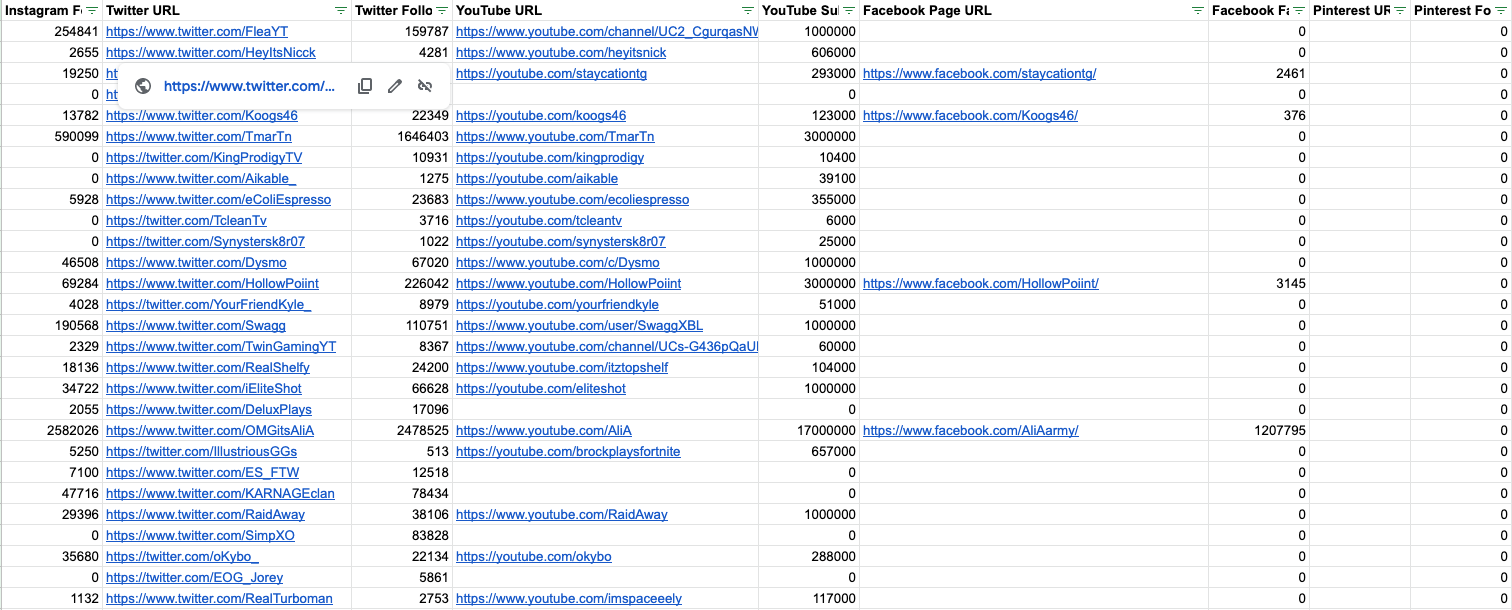 and turn it into this: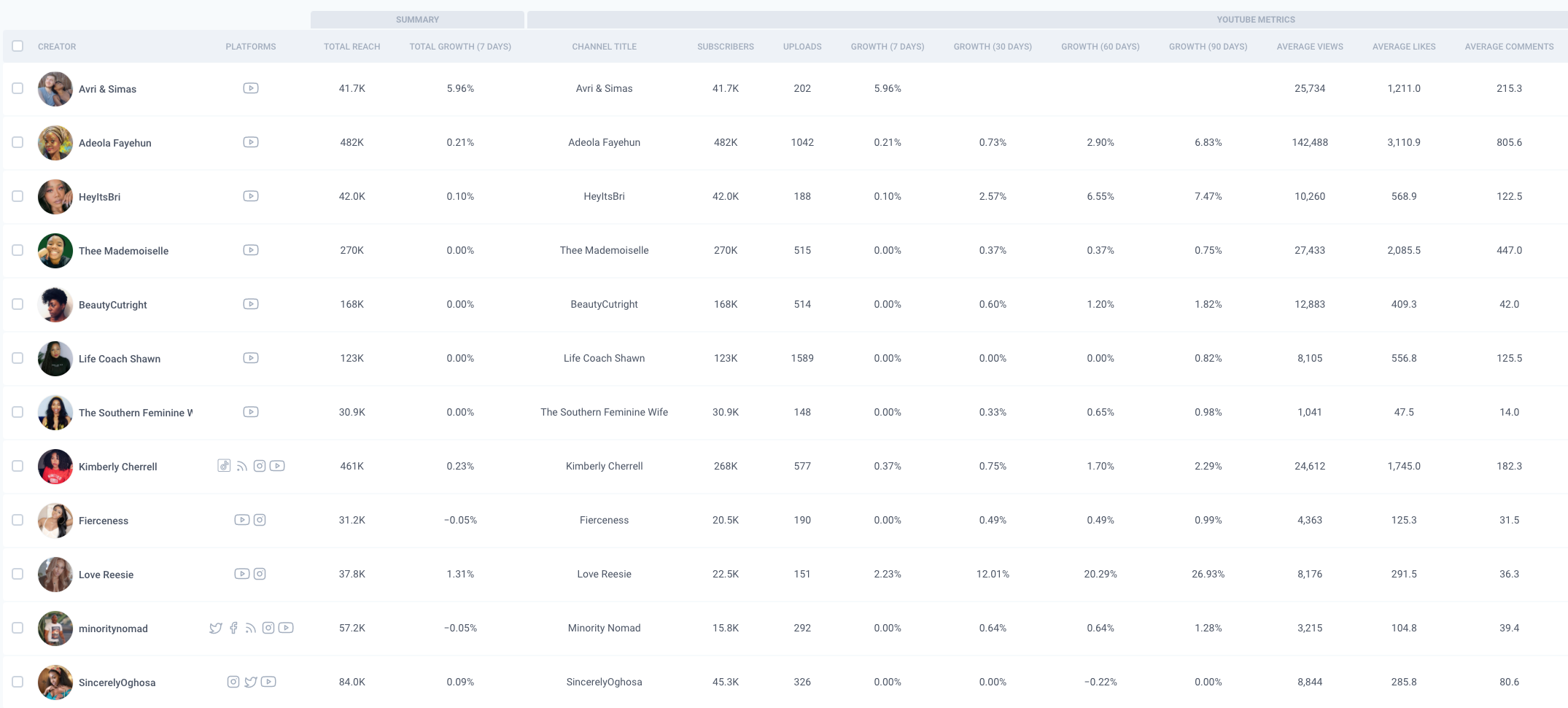 Organizing Contact Information
Now that you have your spreadsheet uploaded. Let's talk about the contact info fields. If you aren't familiar with customer relationship management (CRM) software, that's ok! Think of Dovetale as the place where you keep all of your influencer contact information. Here is an example: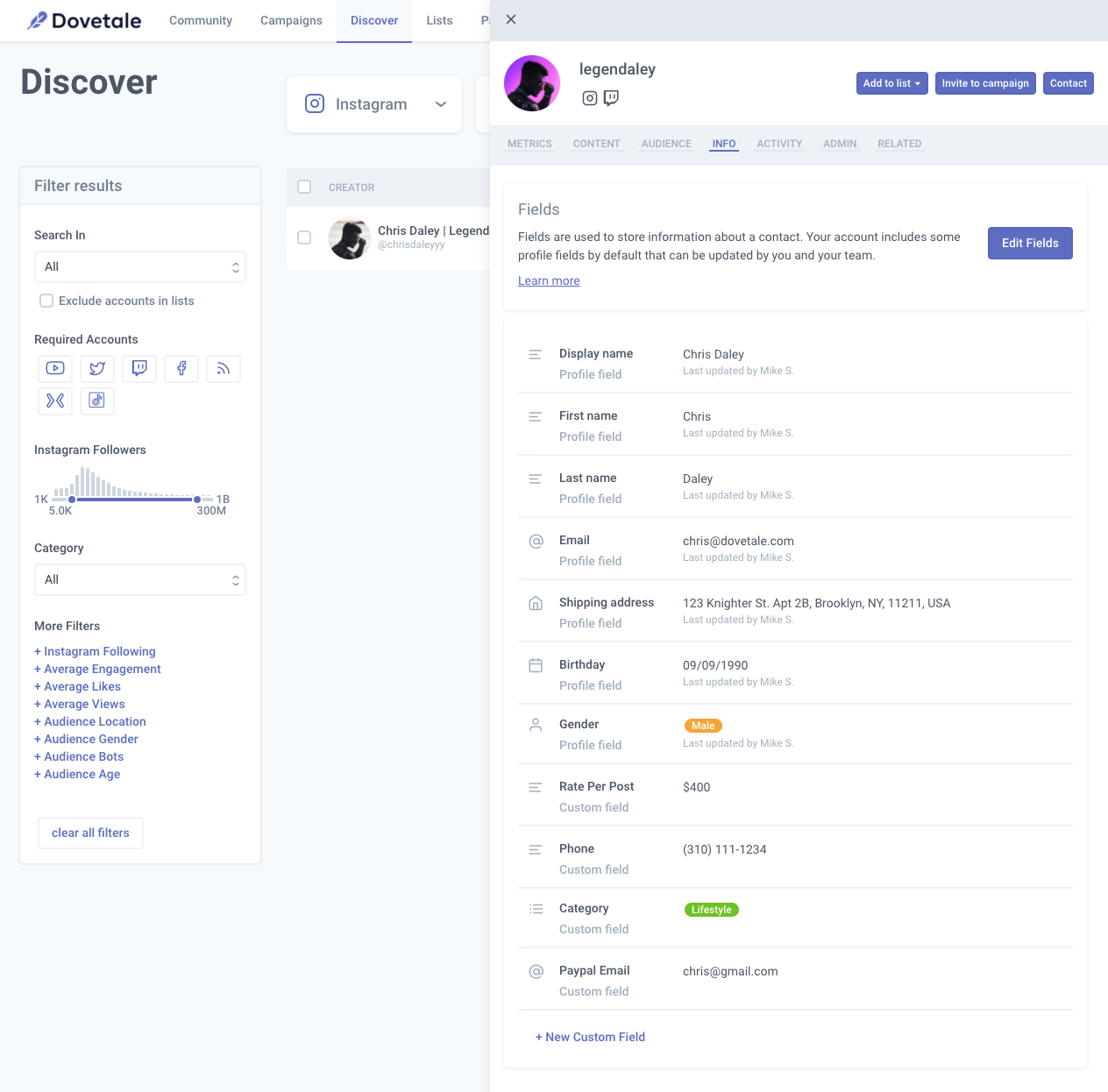 Since every team is different you may want to customize these fields. You can add things like phone numbers, PayPal email, and more. So, when your team is looking for information pertaining to previous influencer relationships they can easily turn to the profile information tab.
As you are building out your program, your team also may want to leave notes on different influencers. Keeping private comments on each influencer is key to long-term success and can be done via the fields on the information tab.
Organizing your Communication With Influencers
Many teams are starting to utilize software to organize their influencer databases and communication. Let's break down some software on the market:
General CRM's
CRM's like Salesforce, Klaviyo, Close, and Hubspot are optimized for your customers, not influencers. These tools miss out on all of the social data enrichment, but they are very strong communication tools. Teams that solely use general CRM's for their influencer marketing end up running into scaling issues.
Influencer Marketing Search Software
There are a plethora of influencer marketing search engines. If you are thinking about switching to a new one or you have exhausted the search database size of your current tool here are some questions to ask:
Is it user friendly
Is it within my budget?
Do I need to sign a year-long contract?
Do I need to pay for more searches?
These questions are important to ask because influencer search engines come down to what you are willing to spend per lead. The cost should be directly related to how much time you save and the value you receive. If it takes you longer to find the people you are looking for than searching on Instagram and YouTube it might not be worth the investment. If, however, it is saving you time, you should consider the cost savings. Take a well-established industry such as email lookup tools like RocketReach. RocketReach is a great tool for sales professionals because they can look up emails and send prospects a message. Therefore you can attribute the cost of RocketReach to the potential success of closing a new customer. For example, each look-up on RocketReach will cost you between $0.02 – $0.47 depending on the tier you are on. In this case, you can directly correlate how much it costs per contact, and if you know the average open rate + weighted average contract value you can figure out the return on investment.
Some influencer search engines charge based on credits, while Dovetale is free to search unlimitedly. We're here to help merchants grow and find the best people to join their community. Something to consider when evaluating software.
Influencer Marketing CRM's
Influencer marketing CRM's have been around for a while now, but none of them have worked at scale. Some platforms have what they call 'influencer relationship management' software (IRM's).
The problem is that companies don't have the budget for two CRM's and they are expensive. Companies in this category are $2,000/mo+ on annual contracts that often lock teams into using software that will only be valuable to them for 3-6 months. So you're paying Salesforce: $400 – 3,750/mo (1-year min) and you need to pay one of these platforms roughly the same – well there goes your actual influencer marketing budget. Another thing to consider is just how tough CRM's are to run. Companies like Salesforce are big for a reason. Making sure emails are delivered, databases are secure, and more is a costly endeavor. Your marketing dollars should be spent growing your brand, building meaningful relationships, and partnering with people who can help your brand's bottom line. Influencer marketing is about building relationships. Finding, fostering, growing, and maintaining relationships with influencers should be the main contributing reason for increasing software costs.
Our Recommendation
Our recommendation is always to focus on return on investment. To keep costs low and teams organized we would recommend pairing your CRM like Klaviyo with Dovetale. Dovetale can handle all of the relationship management features like searching, prospecting, reporting, affiliate marketing, gifting, and payments, while Klaviyo can handle all of your communication and outreach. That way you can keep things organized and use the tracking systems in each to optimize your progress.
Written by Dovetale
Link to Original Post: https://dovetale.com/blog/effectively-using-the-creator-card/