If you've done PPC advertising for a few years, you'd have realized that Google likes to push you to show your ads for more and more search queries.
In other words, it encourages you to run automated bidding and switch to broach match keyword type so that your ads are shown for a higher number of search queries, which means more clicks and ultimately more money for Google.
But if you're running automated bidding and you've set limits on CPA or ROAS, trying broad match is not a bad idea, because why not let Google try to see if there are additional search queries out there that may drive good traffic and conversions for you?
Of course, you still have to be careful. You don't want to show your ads for random queries. Plus, in some cases, even if Google has reduced your bid, it still may not perform well for you.
And as somebody reading this article, you probably like to have more control over your campaign. You're listening to Google, you're trying a bit of broad match, and now you want to check if Google is really showing your ads for the right queries.
The Rule Engine Strategy That Monitors New Search Queries
That's why, we at Optmyzr, have built a tool to help you stay on top of all that. It's called the Rule Engine.
The Rule Engine lets you create custom optimizations that can make bulk changes to your Google Ads, Amazon Ads, and Microsoft Ads accounts. These can be strategies that can help you bid to a target CPA or, give you a list of keywords and ad groups that are more expensive than their peers.
You can review and apply the suggestions or even automate the process by running the strategies on a schedule.
Now, here's a strategy to monitor your new search queries in Google Ads.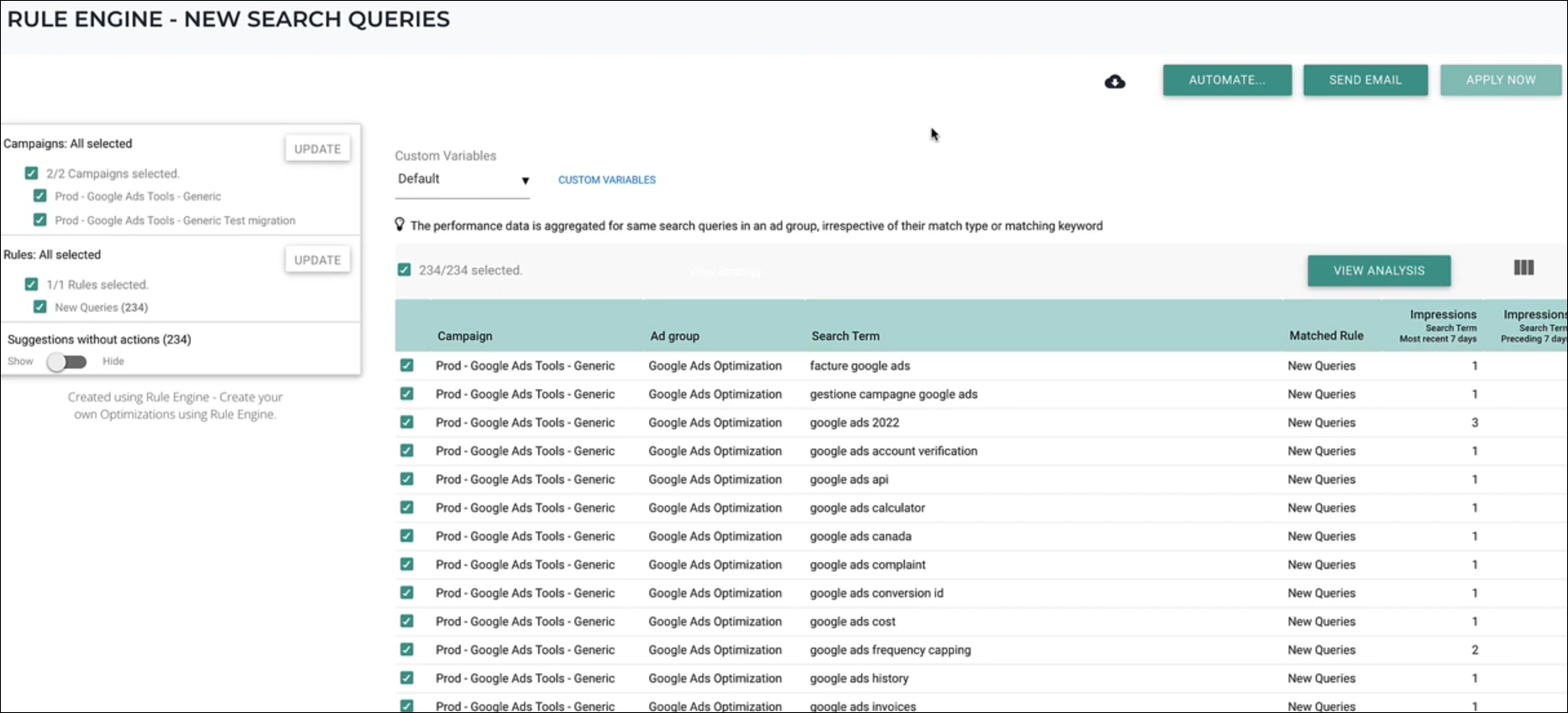 It first compares the search query data of the past seven days with that of the previous seven days to find newer queries.
And then it presents the list of these new queries. Of course, you have to keep in mind if these queries did show up at some earlier time (even before those 14 or 7 days ago). You can control that using the rule engine by changing the date ranges, conditions, or boundaries to show the data you need.
Why Monitor New Search Queries?
Monitoring search queries this way provides you with some really useful insights.
You will learn about the changes in your audience's behavior, interests, and priorities. Not just that, you can take those insights and use them in your other campaigns outside of PPC such as:
Optimizing your landing pages
Modifying copy/messaging in your email/social media marketing campaigns
Creating organic content around those queries
Now, coming back to the strategy, you can create it using the Rule Engine by following the below steps.
How to Monitor New Search Queries in Google Ads Using Rule Engine?
Step 1: Go to Optimizations -> Rule Engine -> View & Create strategies.
Step 2: On the top-right, click Add Strategy -> Add new strategy.
Step 3: Select 'Pick Optmyzr recommended strategy' and click 'Next'.
Step 4: Under 'Select a Goal', select 'Search Queries' and click 'Next'.
Step 5: You will find multiple strategies here. But for this use case, select 'New Search Queries' and click 'Next'.
Step 6: Click 'Show me Optmyzr's suggestions'. This is the fastest way to view your results. But if you want to customize the strategy like changing the date ranges and adding more criteria, click 'Give me full control'. Then click 'Proceed'.
Rule Engine prepares the strategy and previews the results. Depending on the size of your account, this may take up to a few seconds to a minute.
And now you'll see the new search queries that are appearing in your account.
Safeguard your PPC campaigns
In the wake of ad platform automation, setting up even the smallest of changes, like the one above that takes just a few minutes goes a long way in protecting your PPC accounts, providing a bit of PPC insurance if you will.
Written by Optmyzr (Auther: Vimal Bharadwaj)
Link to Original Blog: https://www.optmyzr.com/blog/monitor-new-search-queries-in-google-ads/